Haunted Houses, Spook Walks & Other Halloween Attractions in Monroe
Whether you're from Monroe, or you're simply visiting this Halloween Season, there are plenty of festive fun to enjoy this Halloween Season. If you're looking for a day of family fun in a pumpkin patch, or spending the evening Haunt hunting with friends is more your speed, Monroe has plenty of exciting Autumn activities to enjoy this October. Halloween comes around but once a year, so if you're passing through Monroe this Fall, make sure to not miss out on the thrills, chills, and scares this year!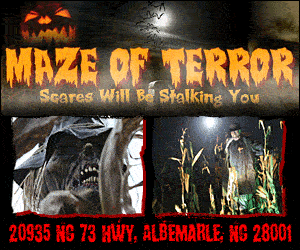 Located in Albemarle
Open today!
Come join us on a walk, where those that walk no more have come to rest. Through nightmares of the unthinkable hold on to your heart, be aware in the dark, You will never guess what's stalking you around the next row of corn. Then when you think it can get no worse, step in to the Woods of Fear to Read More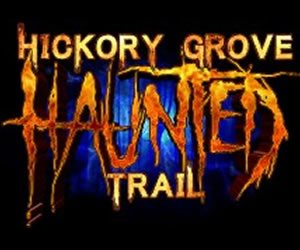 Located in Gastonia
Open today!
For over 20 years now the Hickory Grove Haunted Trail has been in operation. What started out with a couple of friends and a crazy idea has turned into a tradition in Gaston County. We would like to thank everyone who has supported us through the years. We could not have been successful without Read More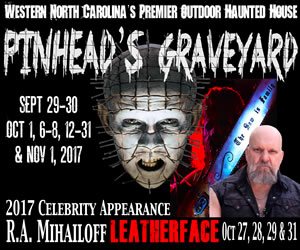 Come join us on a walk, where those that walk no more have come to rest. Through nightmares of the unthinkable hold on to your heart, be aware in the dark, You will never guess what's stalking you around the next row of corn. Then when you think it can get no worse, step in to the Woods of Fear to make your final reservation for your resting place beside those who have gone before...

Read More

Categories: Haunted Houses | Haunted Mazes / Haunted Corn Mazes

For over 20 years now the Hickory Grove Haunted Trail has been in operation. What started out with a couple of friends and a crazy idea has turned into a tradition in Gaston County. We would like to thank everyone who has supported us through the years. We could not have been successful without you. We have always had a tremendous amount of help and support from family, friends,...

Read More

Categories: Haunted Houses | Spook Walks / Haunted Trails