Woods of Terror on Church Street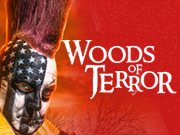 5601 North Church Street
Greensboro, NC
Details
Average Review

Scare Factor

Scary

Appropriate For

Parental discretion advised, no one under the age of 5 will be admitted

Organization Type

Commercial / For Profit

Listing Categories

Haunted Houses, Haunted Hay Rides, Haunted Mazes / Haunted Corn Mazes, Spook Walks / Haunted Trails, Halloween Festivals & Parades, Scream Parks

More Info

Wheelchair Accessible, Snacks & Refreshments, Outdoor Event(s), Touching Not Allowed, Parking Fees May Apply
Arachnophobia exploits any phobia you can think of – bugs, spiders, and snakes, just to name a few. The experience will be different for each person, whether they fear the dark, close quarters, or maybe lions, tigers, and bears. Oh no, we mean snakes, spiders, and roaches. Hope you can you make it through.
Nights Stalkers
Fall is a time for harvest, but we won't be harvesting corn, the night stalkers will be harvesting their favorite food… it's you, good luck! After several years of employment the local company laid off many loyal employees.
The loss of the jobs took on a bigger effect than originally thought. Past employees were unable to find other jobs and ultimately lost their homes and were without food or shelter. That is until they inhabited the plant. They now feast on visitors.
The Third Dimension
The first of its kind in North Carolina, Stuartism art work is phenomena. Prepare to put on your glasses and take a wild ride through the all-new dimension of horror. You'll wonder if the walls are actually coming alive.
The Blood House
All new for 2009 is The Blood House. As you enter be prepared to witness the most beautiful vampires you have ever seen, but don't be fooled, there's one thing that's certain they're out for your blood!
The Awakening
As you try to make it though the old graveyard, you will witness an awaking of the Dead. Spirits will begin to lurk around you waiting for you to be their next meal.
Horrorwood Cinema
Step into the old abandoned theater, have some popcorn and enjoy the show. Did we mention you ARE the show? Walk into the screen and encounter some of your favorite horror movie icons. Why just watch… Experience the terror first hand, but remember there are no second takes!!!
Blackbeard's Revenge
Arrggghhh!!! When Blackbeard's ship was found, little did they know the horror that would be unleashed by disturbing its final resting place? Come face to face with Blackbeard and his crew of pirates. Step aboard his ship, but don't steal his rum or treasure or ye may not make it back alive.
The Gold Mine
when gold was found they all thought they were going to be rich. But greed caused a major accident. It is true when they say, "money is the root of all evil". This mine is now haunted by the evil dead…beware.
Email Haunt Owner
All photos and videos within this listing are the property of Woods of Terror on Church Street
Email Verified

Can I make this my second home

I truly wish WOT could operate all year long, but I impatiently wait for Halloween to roll around again to make a visit. I live out of state, but make plans each year to attend the haunt! I have been to plenty of hats and this one is far most the best!! Keep up the good work and haunt on!

Scare Factor:
Fun Factor:
Haunt Value:
Length of Event:
> 1 hour
Time Visited:
After 9PM
Would Recommend:
Yes

Posted 8/23/17

Email Verified

My favorite place to get scared

I love this place! A must attend every fall. The actors are top notch, the attractions are extremely detailed and all you hear are screams in the woods. The makeup and costumes are unbelievable. The detail and thought that goes into every single thing is very impressive. I would highly recommend!!!!

| | |
| --- | --- |
| Scare Factor: | |
| Fun Factor: | |
| Haunt Value: | |

Posted 7/20/17

Email Verified

Amazing

I'll be the first to say I was scared but all the characters and the affects were amazing and I would most definitely be going back there.. it's definitely worth what you pay if you ask me

| | |
| --- | --- |
| Scare Factor: | |
| Fun Factor: | |
| Haunt Value: | |

Posted 7/19/17

Email Verified

Creepy

The wait is long unless you buy a fast pass but it's definitely worth it. The trail is long and entertaining. The actors are phenomenal. Really scary.

| | |
| --- | --- |
| Scare Factor: | |
| Fun Factor: | |
| Haunt Value: | |

Posted 7/19/17

Email Verified

BEST HAUNT EVER!!!

I go to A LOT of haunted houses and trails during the Halloween season and WOODS OF TERRROR is my FAVORITE!! I have been every year for the past ten years and I make sure I never miss it!! I have never been disappointed and look forward to it every, single year. The owner is one of the nicest, most creative men and he appreciates his employees and his visitors! LOVE WOODS OF TERROR!!!

| | |
| --- | --- |
| Scare Factor: | |
| Fun Factor: | |
| Haunt Value: | |

Posted 7/19/17

Phenomenal

I visit a lot of haunts every year and this one is by far the best!! So much detail and every attraction is thought out so well!

| | |
| --- | --- |
| Scare Factor: | |
| Fun Factor: | |
| Haunt Value: | |

Posted 7/19/17

Amazing

Long but worth it.

Scare Factor:
Fun Factor:
Haunt Value:
Length of Event:
> 1 hour
Time Visited:
After 9PM
Would Recommend:
Yes
Suitable For Kids:
No

Posted 7/19/17

0 out of 1 found this review helpful

Amazing

Best haunted house ever will definitely go back next year

| | |
| --- | --- |
| Scare Factor: | |
| Fun Factor: | |
| Haunt Value: | |

Posted 11/5/16

1 out of 1 found this review helpful

Email Verified

Great!

This is the 2nd year we have visited. Loved it!

| | |
| --- | --- |
| Scare Factor: | |
| Fun Factor: | |
| Haunt Value: | |

Posted 10/23/16

Email Verified

Awful!!!

My husband and I have went every year for 5 years now. This year has by far been the worst year ever. It wasn't even scary, not enough workers. Most of them didn't even care, or was even trying to scare you. It definitely wasn't worth the $65 we spent. We won't be going back ever again! ?????

| | |
| --- | --- |
| Scare Factor: | |
| Fun Factor: | |
| Haunt Value: | |

Posted 10/22/16

0 out of 6 found this review helpful

Awesome!!!!

It's scary.. it gets in your head.. highly recommend this haunt if you dare. ????

| | |
| --- | --- |
| Scare Factor: | |
| Fun Factor: | |
| Haunt Value: | |

Posted 10/16/16

1 out of 1 found this review helpful

One of the best.

The woods of terror is one of the best ever. Its creative and excellent and scary. It has professional sets and actors and creates a ambience like none other highly recommended I will definitely be back

| | |
| --- | --- |
| Scare Factor: | |
| Fun Factor: | |
| Haunt Value: | |

Posted 11/1/15

5 out of 6 found this review helpful

I come back every year

Out of all of the haunted trials I have been to Woods of Terror is my favorite. Every year the yard something new and they have an awesome system for getting people into the maze without standing in line forever.

| | |
| --- | --- |
| Scare Factor: | |
| Fun Factor: | |
| Haunt Value: | |

Posted 9/9/15

8 out of 8 found this review helpful

Just Amazing!

Woods of Terror 2011 is freaking amazing! Prepare to be re-named Mr. PeePee Pants! WOT is Huge and just doesn't stop! There are over fifteen haunted attractions and it takes over an hour to through. WOT has it right. From the beginning, they discombobulated us and we just never got our senses back until we got to Spookywoods and were bored back to reality. The first trick at WOT is that there are 2 lines to get started – but they do a great job with crowd control – handing you a playing card so you know when to get in line. It's just tricky because we were ready to go, but it was just another line. They could have been more entertaining during that waiting. Back to that first haunted house: it's disorienting! It's also tricky because it looks like it's going to be a reptile house, but that's just them faking you out! There's a big ass balloon thing we had to squeeze through, but only after letting the even scarier tweens go through ahead of us lest we be molested or trampled by their inability to understand boundaries. Well, once we got through the head to toe balloon using all of our muscles it got worse! WOT is ballsy enough to go for Total Blackout! I mean, no glow in the dark Anything – just pure black maze! Thank God my girlfriend totally freaked, cheated, and lit up her cell, which also created ease for the bumpy tweens so that we could get moving just a little bit. (I know! I know! We're gonna have to go back just to get properly, mental illness creating scared.) So, the cell phone cheating aside, we continued through the first house maze that had us squatting Twice for good periods of time with twists and turns. It was flat out jarring! And it was just the Real beginning! Next, was the corn maze, which really could use some more corn stalks. But here's where I was surprised: I couldn't hear the actors coming for me – so they Got me! Next, there were two school buses ala Jeepers Creepers where some tiny waif of a chick who I swear materialized from the unknown with the sole purpose of scaring me back into the folds of Jesus of the South got me talking in tongues! Then, there was 3D! Now, I hail from the great state of Texas and have been properly imbued with all the inappropriate and disproportionate pride, but when I was getting growed up we didn't have 3D. And so my girlfriend made sure that I got my glasses on real proper so that my curly hair didn't push them off. Well! Well! I didn't need no acid no more! It was great and a total feast for my eyes & senses, the only thing they could have done to make it better was have their actors costumes match the 3D itself – it was too easy to spot the actors – but it was a blast! And it lasted for two houses, partial outdoors, and a spinning tunnel! There's no foreplay or little blue pill at TOW – it's the real deal! And then there was garage band rock, which wasn't very scary in the beginning, but was loud, overwhelming, and fun. I thought it would be over before I experienced my new foreign, God-talking language welling in my gut again, but then another chick started banging the fences with her magickal wand that created sparks so huge I thought she would instantly re-perm my luscious locks And another rocker came out of nowhere to jar me! Imagine being attacked at your hairdressers! I don't think that was the effect they set out to create, but I wonder if that's where Morrissey was inspired to pen Hairdresser on Fire – always a crowd pleaser! Anyway, there was some odd vampire house which seemed more like its existence was to provide relief from being so f-ing jarred! I know the reviews maul this house, which is deserving of mauling, but it also had this great mirror effect for the actors, which will get you. And since I have a dirty mind, the menage a trois room was particularly stimulating! Hollywood! So my partner and I are in our 30s, together we are a Juris Doctorate and PhD Candidate, we love to travel for fun, and are soulmates for the heart-fusing reason of Halloween being our Favorite holiday! We watch horror movies non-stop starting in September until Halloween and then patiently wait all year, anticipation building until the next September. One year, we'll enter August! Anyway, we carve pumpkins, dress up the house in purple lights, and even get costumes for our three dogs. So when we were able to walk through house after house of our favorite Halloween movies, we nearly made a baby! There was Saw, Michael Myers, Jason, Freddie, and you know it: the Texas Chainsaw Massacre! All the best are there! And there are full scenes dedicated to Each one!!!! Then there are pirates and their breath stinks and they're hard to understand what with all that rum swilling. And here's some more freakyfreaky: there's this other maze (right? Cuz ALL the houses are mazes and by the thirteenth maze your honing beacon, like a Garmen that loses signal in the middle of a city, is just more of a hassle (because you remember the comforting warmth of the good ol' days)) and it's a tall fence that gets narrow and then turns sharply in its narrowness and there weren't Any actors. There were plenty of places to insert actors and maybe the economy has hit their ability to hire more goth kids and make them happy for a season, but it's okay because I was once something of a dark kid and to this day all of life coaches tell me that I can 'go dark' at times (which just means that I bask in the dark treacherous places of my soul making me a perfect 4 on the enneagram), and my own horror-movie loving mind filled in the gaps! Now, being freaked out by your mind is usually something that therapists get paid to do to you, but some slates of wood did it to me! I don't even remember the end of it so my girlfriend filled me in. Oh, there were medics! I remember medics! Not for me silly! It was a section, and my girl states that there wasn't anything scary in particular, but that there was a good actor with great timing and he got me good. As she tells it, "You jumped, you literally jumped up and shivers ran through your body twice." Of course, I don't really remember that, but here it is – the next morning and I'm begging for massages because I drove us back home (after releasing my anger over non-spookywoods) with my shoulders even with my ears believing that medics were after me. I'm 32 and I walked out of Woods of Terror trembling.

Posted 10/10/11

6 out of 7 found this review helpful
All information on this page was submitted to North Carolina Haunted Houses and was believed to be accurate at the time it was posted. Please report any inaccuracies
here
.