Find Out What's in Store this Halloween Season at The Haunted Trail in West Jefferson!
Home » Blog » North Carolina Haunts: An In Depth Look
September 14, 2017 By Haunt News & Press Releases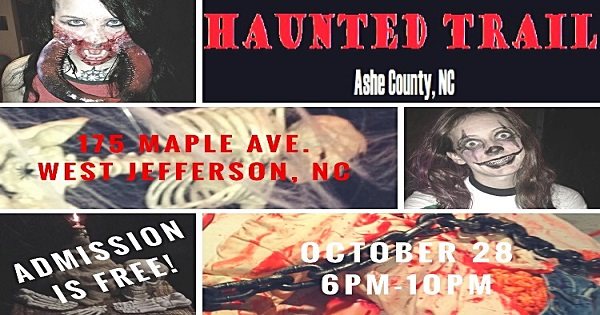 NorthCarolinaHauntedHouses.com recently sat down with Isaac Patrick of The Haunted Trail, to discuss what's new at The Haunted Trail for the 2017 Halloween Season! Located in West Jefferson, The Haunted Trail is a charity attraction that stirs up some serious scares for locals to enjoy.
What's new at The Haunted Trail for 2017? Do you have any new rides, attractions, or special features that Haunt Seekers should know about?
We have some brand new scenes this year and are bringing back some beloved old scenes. We are also adding new special effects this year to put each and every one of the five senses to the test.
What are you most excited about for the 2017 Halloween Season?
I truly feel that this year the Haunted Trail is going to be better than ever! I can't wait to see how people react and hear what they have to say.
What differentiates The Haunted Trail from other local haunts in North Carolina?
One thing that makes the Haunted Trail different is that it's free! We really just do this because we love it and we want other people to enjoy it too! Completely free of charge!
How long has The Haunted Trail been in business? Can you tell us a bit more about The Haunted Trail's history?
We started the "Midnight Terror Haunted House" in a 1 car garage back in 2011. In 2012, we were gonna set up a "Haunted Trail" on our porch, but it actually snowed us out that year! In 2013, we moved to our basement and used 2 rooms until in 2014, when we expanded to three rooms. In 2015, we added a small outdoor portion to the haunt. 2016 was a great year for our haunt as our attendance was nearly double what it had been the year before. Looking forward to great things for the 2017 haunt!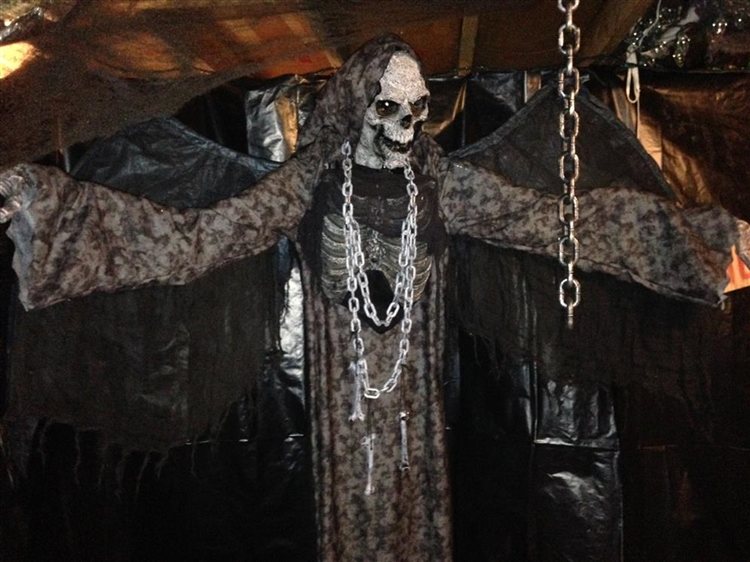 What's your favorite experience since opening The Haunted Trail?
I just love seeing people get scared and wanting to go through again and again. Also, seeing people throughout the year and hearing them talk about how great the Haunted Trail was last year and how they can't wait for this year. It really feels good knowing that people love it as much as we do.
How long is a typical haunt experience at The Haunted Trail from start to finish?
A walk-through usually lasts about 5 minutes.
On a scale from 1 to 10, how scary would you say The Haunted Trail is? Why?
I would give it a 7. We try to make it kid friendly. We want the whole family to have a good time.
Does The Haunted Trail's property have any real haunted history? Do you have a spooky encounter you'd like to share?
Last year, I was down in the basement working on the Haunted Trail and I decided to take a picture of a doll that was hanging in the nursery. As I was taking the picture, the lights flickered off and back on. Not long after that I heard what I thought sounded like a crying sound! I told the story to the girl who gave me the doll and she said that the basement where she found it was actually haunted!
What inspired you to open up a haunted attraction? What's your favorite part of the business?
When I was little my cousin made a haunted house on his porch and a few years later someone else I knew made a little haunted scene on their porch! I thought it was a great idea, so we started out on our porch... Now we have a whole basement!
How has new technology (i.e. animatronics, special props, etc) helped you to enhance The Haunted Trail?
Well, anyone who knows me, knows I love Halloween props! I was once given the advice not to buy a prop if an actor could do the job better. I try to stick to that.
Can The Haunted Trail accommodate large groups? How many people can experience The Haunted Trail together as a group?
We can have up to 7 per group. We don't want anyone to miss anything.
Does The Haunted Trail offer any special deals, discounts, or coupons?
The Haunted Trail is 100% FREE!
Anything else you'd like to let us know about The Haunted Trail?
We are only open for one night. For the 2017 season, we will be open on Saturday, October 28th from 6pm - 10pm. Come on out for a great time!