Lake Hickory Haunts' 2016 Interview with NorthCarolinaHauntedHouses.com
Home » Blog » North Carolina Haunts: An In Depth Look
April 7, 2016 By Haunt News & Press Releases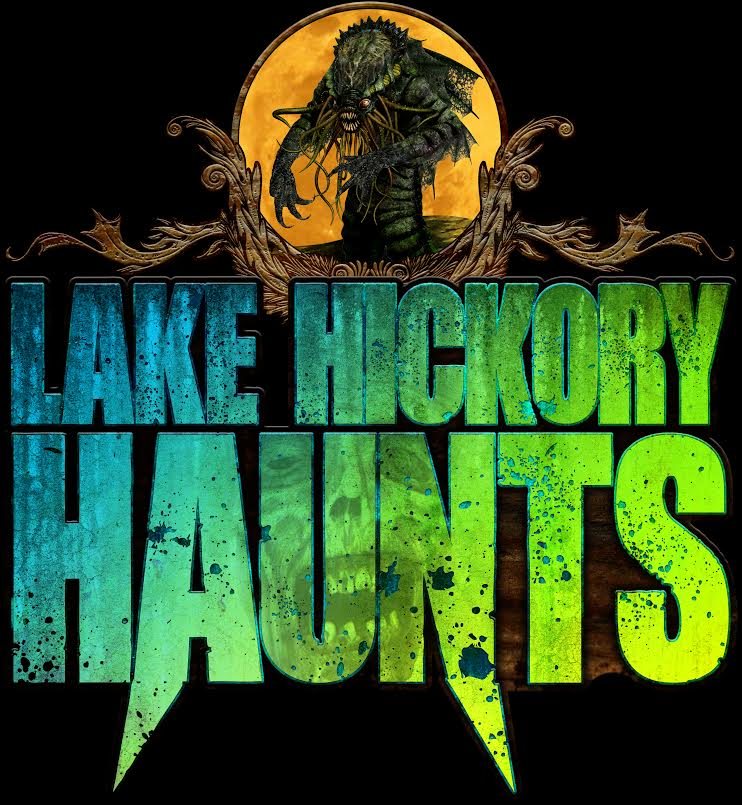 Be Prepared to Be Scared!!
NorthCarolinaHauntedHouses.com recently sat down with Ryan Settlemyre of Lake Hickory Haunts, to discuss what's new at Lake Hickory Haunts for the 2016 Halloween Season! Located in Hickory, North Carolina, Lake Hickory Haunts prepares to scare all throughout the year to assure the maximum level of fright for its visitors during the Halloween Season.
Lake Hickory Haunts offers a unique experience and differs from other haunt attractions. As thrill-seekers wait on line to journey through the haunt, Lake Hickory Haunts has a DJ to keep everyone entertained. The location also features some trademark games that allow guests' to challenge themselves before they brave the attraction.
Then it's time to begin your tour on the banks of Lake Hickory where you'll be forced into five different one-of-a-kind attractions! Lake Hickory Haunts also features a special Black Out event where guests have to journey through the attraction without any lights, an evening that is sure to give haunt-goers a run for their money!
What's new at Lake Hickory Haunts for 2016? Do you have any new rides, attractions, or special features that Haunt Seekers should know about?
This season, Lake Hickory Haunts is completely changing the game. Brand new attractions for the 2016 season include Extinction, Shipwrecked, Lair of the Living Dead, and Nightmare Factory. Revolutionary themes, effects, and thrills are coming. Keep an eye on our social media and website. Details will begin being released soon!
What are you most excited about for the 2016 Halloween Season?
Extinction! Nothing quite like it has ever existed in North Carolina. It is sure to bring a new type of horror to haunters!
What differentiates Lake Hickory Haunts from other local haunts in North Carolina?
At Lake Hickory Haunts, we place our customers first. Customer service is key, our primary goal year after year is to provide the most value to our victims as we can. We strive to give our customers exactly what they want, not what we want. Also, water! Hence the name Lake Hickory Haunts; Lake Hickory Haunts is located on the banks of Lake Hickory. Water is the backdrop for our haunt and it creates an incredibly unique and eerie atmosphere for customers.
How long has Lake Hickory Haunts been in business? Can you tell us a bit more about Lake Hickory Haunts's history?
The 2016 season will be the 5th year of business at Lake Hickory Haunts. We started out knowing that we wanted to create a unique experience like none before. We have a motto that says, "We believe in innovation, not duplication." Year after year, we continuously add and change in order to stay one step ahead of the curve. Our constant mission is to revolutionize the customer experience, and so far it seems that we have been successful in doing so.
What's your favorite experience since opening Lake Hickory Haunts?
My favorite and most memorable experience would have to be when Packbacker, an official reviewer and avid haunt goer, said this in his review: "I can count on one hand the number of times I've gotten goose bumps on a trail and LHH last night made that very small list." This was huge for us! In fact, it gave us goosebumps! This man had been to hundreds and hundreds of haunts across the country and we were one of the very few that gave him goose bumps? Wow!
How long is a typical haunt experience at Lake Hickory Haunts from start to finish?
Previously, the experience typically averaged between 30-45 minutes. However, with our additions in the 2016 season, we expect the experience to last between 40 minutes to an hour.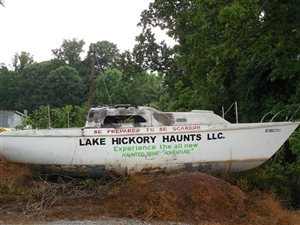 On a scale from 1 to 10, how scary would you say Lake Hickory Haunts is? Why?
It is difficult to rate the scare factor of Lake Hickory Haunts as a whole. We are definitely scary, but there is a science to our attraction. We focus on entertainment and scare factor. There are places where we have "comic relief" in order to set up the next scare, or to give customers a break. We are very successful at scaring people, but our intention is not to terrify people to point of misery. Our goal is to scare people, make them laugh, show them some awesome looking stuff, then scare them again! Overall, our "scary rating" is probably an 8.5. However, when we want to be scary, we are a 10. Some scenes are purposefully a 10, some are purposefully an 8, etc. It's just the way we do it, in order to give each customer the best experience we can possibly give.
Does Lake Hickory Haunts's property have any real haunted history? Do you have a spooky encounter you'd like to share?
Possibly... creepy things happen, and there are many real creatures in the water, but nothing documented.
What inspired you to open up a haunted attraction? What's your favorite part of the business?
My love for horror, Halloween, and thrill. I went to many haunted attractions each season and began to find myself saying, "that's cool!" or, "I saw that one coming". I knew that i could reinvent the haunted attraction industry. I knew that there were people out there just like me that loved the feeling of thrill and adrenaline, and I wanted to help them achieve that. Oh and... who doesn't love scaring people?!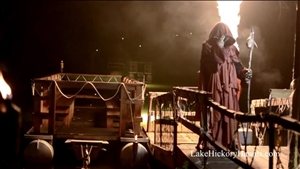 How has new technology (i.e. animatronics, special props, etc) helped you to enhance Lake Hickory Haunts?
Prop controllers, pneumatic and electric props, special lighting, and pyrotechnics have tremendously advanced Lake Hickory Haunts. These machines and tools are what allows us to create a uniquely immersive experience. While an actor can't touch victims, our props can. While an actor can't flick a light on and off in a rhythmic manner all night long, prop controllers can. While an actor can't get in and out of water on a 30 degree night, props can!
Can Lake Hickory Haunts accommodate large groups? How many people can experience Lake Hickory Haunts together as a group?
The typical group size at Lake Hickory Haunts is 4-6 customers. If 7 customers are together, they can go in together, if 3 people are together, they can go together. If a group of customers purchase VIP tickets, they can enter together in a group as large as 10 if they choose to do so.
Does Lake Hickory Haunts offer any special deals, discounts, or coupons?
Lake Hickory Haunts offers group discounts for groups of 15 people or larger. This discount is $5.00 off per person with no other discounts being valid. A group must be pre-arranged via E-Mail, social media, or phone call, at least 24 hours in advance. We offer discount coupons online, convenience stores, Halloween stores, etc. We also have special $5.00 discount nights such as Breast Cancer Awareness Night, Customer Appreciation Night, and Church Youth Group night. These dates will be available on our calendar as we approach closer to season.
Anything else you'd like to let us know about Lake Hickory Haunts?
At Lake Hickory Haunts, we love our fans, customers, and victims! You are who makes us #1! We could not do anything that we do without you! Never forget that, and for that, we thank you!
Lake Hickory Haunts is looking forward to opening its doors to feed your appetite for fright during the 2016 Halloween Season!