Find Out What's in Store at Lake Hickory Haunts for the 2017 Halloween Season!
Home » Blog » North Carolina Haunts: An In Depth Look
July 18, 2017 By Haunt News & Press Releases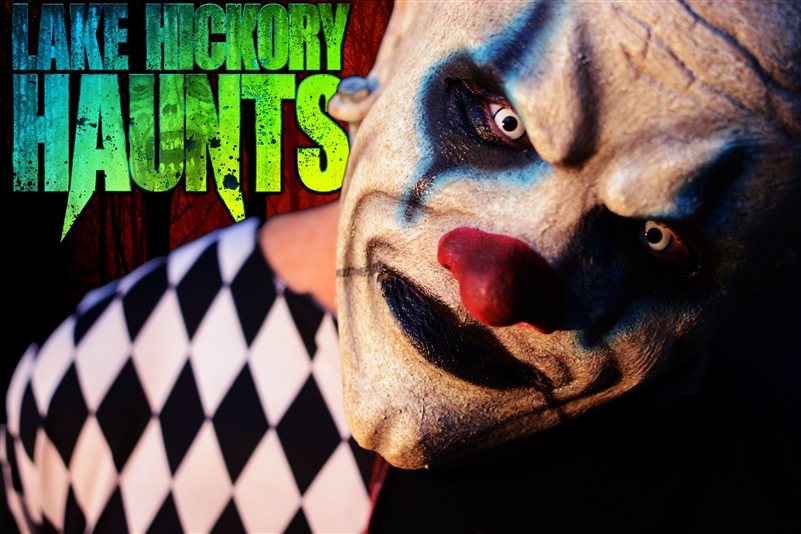 Boss the Clown- Lake Hickory Haunts
NorthCarolinaHauntedHouses.com recently sat down with Ryan Settlemyre of Lake Hickory Haunts, to discuss what's new at Lake Hickory Haunts for the 2017 Halloween Season! Located in Hickory, Lake Hickory Haunts features a number of haunted attractions at one great location. Thrill seekers can take on the Nightmare Factory, Shipwrecked, Extinction, Junkyard, the Boss' Big Top Circus and new for this year - Slaughterhouse!
What's new at Lake Hickory Haunts for 2017? Do you have any new rides, attractions, or special features that Haunt Seekers should know about?
As always, we have been hard at work at Lake Hickory Haunts! This year, we're opening a brand new attraction: SLAUGHTERHOUSE. The Slaughterhouse is now one of our eight unique attractions. Also, we're adding a 3 minute escape game to the Midway of Mayhem, which customers will be able to play before they enter the haunt. We're also adding many awesome scare mechanisms throughout our entire haunt! Most of these are pneumatic, which means we're going to be able to deliver scares on a whole new level! Projection scares are also a new dynamic of Lake Hickory Haunts for the 2017 season!Within the attractions there are many other additions and changes, but those will stay a surprise until you visit us this Fall!
What are you most excited about for the 2017 Halloween Season?
I'm most excited about seeing our victims leaving Lake Hickory Haunts terrified!
What differentiates Lake Hickory Haunts from other local haunts in North Carolina?
Lake Hickory Haunts is unique because we have a large body of water literally in the center of our haunt, this creates a completely unique environment and experience for guests. In addition, at Lake Hickory Haunts; We truly care about our customers. We are dedicated to bringing our guests the show that will best entertain and scare them! We don't think that we know it all, we think our customers know it all. This is why we hope to continually have the most satisfied customers of any haunt in the Carolina's!
How long has Lake Hickory Haunts been in business? Can you tell us a bit more about Lake Hickory Haunts's history?
Lake Hickory Haunts has been open since 2012, which means this year will be our 6th season. Throughout these six years, we have expanded and grown tremendously. Back in 2014, we opened our haunted boat adventure, which was a revolutionary success. After two seasons with the haunted boat adventure, we discontinued it, in order to continually bring new and innovative attractions, scares, and ideas. This also allowed us to utilize more of our land and increase our haunts length to about one hour! Last season we opened new attractions: Extinction and Shipwrecked. Both of these are unique, and I would wager that one would be hard pressed to find similar attractions anywhere. Through our history, Lake Hickory Haunts has continuously innovated and improved, in order to bring new experiences to our guests and fans. Now, in our 6th season and every season to come, we will continue to grow and improve our experience year after year!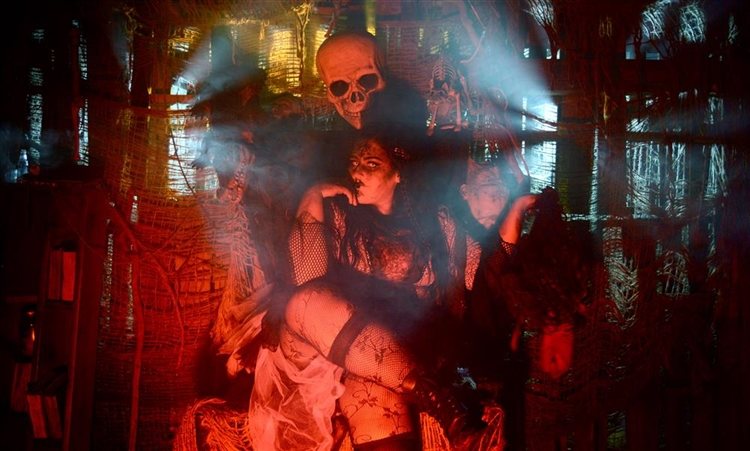 What's your favorite experience since opening Lake Hickory Haunts?
My favorite experience since opening Lake Hickory Haunts was doing our opening ceremony throughout the year last season and seeing our customers' reaction. If you don't know, we have an awesome opening ceremony at Lake Hickory Haunts each night we open. We have a character parade with our 60 plus characters and 10 plus vehicles... Along with other larger than life events that take place during our pre-show ceremony each night! It truly is something you must experience if you're a fan of Lake Hickory Haunts. Make sure you arrive at 6:30 if you would like to experience our opening ceremony this season!
How long is a typical haunt experience at Lake Hickory Haunts from start to finish?
Generally, the haunt takes 50-60 minutes to complete. This does not include the time spent waiting in line or on the Midway of Mayhem.
On a scale from 1 to 10, how scary would you say Lake Hickory Haunts is? Why?
On a scale from 1 to 10, Lake Hickory Haunts can be anywhere from a 6 to a 10. Many people would guess that the goal is to be a 10, however, I disagree. Ultimately, Lake Hickory Haunts is an entertainment business, our goal is to entertain guests and give them an experience worth their expense. Because of this, we train our actors and employees to study and know the guest as they're on their tour. Our goal is to scare those who are not scared, and ensure that those who are too scared, know they're safe. In short, if you're the type of person that loves being scared to death, our monsters will see that, and relentlessly scare you to that level. On the other hand, if you're the type of person that enjoys less intense scares, but loves looking at detailed and immersive sets and special FX, we will do our very best to deliver that experience to you. Once again, satisfied customers is the priority!
Does Lake Hickory Haunts's property have any real haunted history? Do you have a spooky encounter you'd like to share?
Our property doesn't have any documented haunted history. However, if you're working at the haunt late into the night during the off-season... It is guaranteed that some very strange and unexplained events will occur... I believe there is something to be said about spirits being drawn to haunts!


What inspired you to open up a haunted attraction? What's your favorite part of the business?
I have always loved Fall, haunted attractions, and amusement parks. I also have a passion for entrepreneurship and management. I decided to combine these interests and passions, in order to create an attraction unlike any other seen before. Lake Hickory Haunts is a haunted attraction, aspiring to be a literal large scale "haunted" amusement park. I once heard that if you do what you love, you'll never work a day in your life. I'm not sure that that is true (Lake Hickory Haunts can take some serious work throughout the year to get ready to open) but, it certainly helps working on what you love.
How has new technology (i.e. animatronics, special props, etc) helped you to enhance Lake Hickory Haunts?
Animatronics, pneumatics, and projectors are our focus this year. This allows us to utilize non-actor scares. Props will NEVER be able to replace actors. However, we strategically place our animatronics and special props, so that actors can use them to their advantage. Rather than replacing actors with props, we simply add props along with them!
Can Lake Hickory Haunts accommodate large groups? How many people can experience Lake Hickory Haunts together as a group?
Lake Hickory Haunts can normally accommodate 4-6 guests per group. However, on slow nights, often times we can make exceptions to these numbers.
Does Lake Hickory Haunts offer any special deals, discounts, or coupons?
Yes, Lake Hickory Haunts offers a Free Parking pass! This can be found online on HauntedHouses.com and other locations... As well as many physical stores near Lake Hickory Haunts. We also have various special discount nights throughout the season. Visit lakehickoryhaunts.com to see our calendar for this information!
Anything else you'd like to let us know about Lake Hickory Haunts?
Lake Hickory Haunts is the #1 haunt in the Carolina's, and I assure you... Visit Lake Hickory Haunts this 2017 season and you'll be glad you did!