What's in Store this Halloween Season at Lake Hickory Haunts? Find Out Here!
Home » Blog » North Carolina's Best Weekend Events, North Carolina Haunts: An In Depth Look, NorthCarolinaHauntedHouses.com News and Updates
August 1, 2019 By Haunt News & Press Releases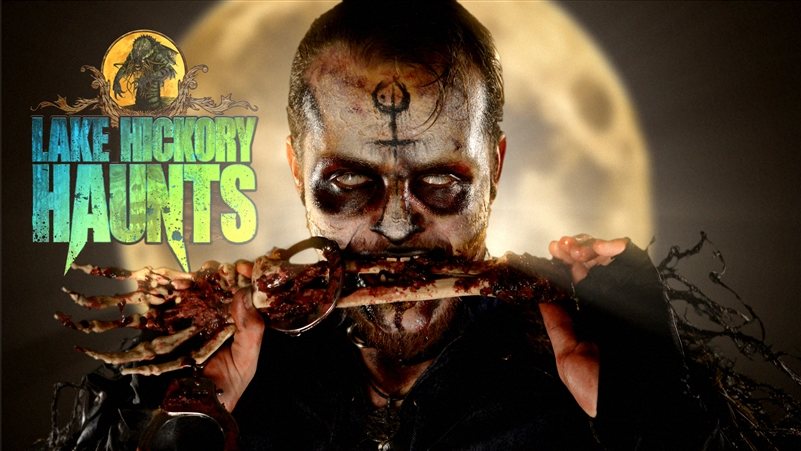 NorthCarolinaHauntedHouses.com recently sat down with Ryan Settlemyre of Lake Hickory Haunts, to discuss what's new at the haunted attraction for the 2019 Halloween Season! Located in Hickory, this haunt offers a large body of water that is surrounded by nine unique attractions - all at one great location. Read below to find out what you and your friends are in for this year!
What's new at Lake Hickory Haunts for 2019? Do you have any new rides, attractions, or special features that Haunt Seekers should know about?
As always, we have many new attractions and features coming to Lake Hickory Haunts 2019. New for 2019: Axe Throwing, Evilation in 3D, the Morgue, The Further, a complete overhaul of our sci-fi attraction: Extinction. Also, we have added onto and expanded Lair of the Undead, as well as renovating our Big Top Circus. In addition, our Midway of Mayhem has many new improvements, including a much better and louder sound system, donuts and kettle corn in our concessions, and much more. Also, we have added more new props and scares throughout all of our attractions than we ever have before.
What are you most excited about for the 2019 Halloween Season?
I'm most excited about our Extinction renovations and additions. I know that our customers and fans are going to be blown away with how huge and detailed Extinction is this year... As well as how jam-packed it is with scares!
What differentiates Lake Hickory Haunts from other local haunts in North Carolina?
Lake Hickory Haunts is unique because we have a large body of water literally in the center of our haunt, this creates a completely unique environment and experience for guests. Also, we have many live bands and concerts scheduled for Lake Hickory Haunts 2019, so customers can experience a live concert and a haunted theme park in the same night. Another differentiating factor is our passion for our customers. We care so much about our customers that we will never stop working to improve our experience year-after-year. Because the customers' reaction is what makes all the work worth it. We are dedicated to bringing our guests the show that will best entertain and scare them! We don't think that we know it all, we think our customers know it all. As long as we're in business and scaring guests, we will put our customers first before everything else.
How long has Lake Hickory Haunts been in business? Can you tell us a bit more about Lake Hickory Haunts's history?
Lake Hickory Haunts has been open since 2012, which means this year will be our 7th season. Throughout these six years, we have expanded and grown tremendously. Back in 2014, we opened our haunted boat adventure, which was a revolutionary success. After two seasons with the haunted boat adventure, we discontinued it in order to add new, bigger, and better attractions. This also allowed us to utilize more of our land and increase our haunts length to about one hour! Throughout the last two seasons, we have added 4 completely new large-scale attractions. Through our history, Lake Hickory Haunts has continuously innovated and improved, in order to bring new experiences to our guests and fans. Last year, we built and delivered an all underground attraction which takes guests through underground caves 12 feet beneath the surface over a distance of 100 feet! This year, in our 8th season of operation; We are continuing to bring never before seen scares and entertainment, and we will for years to come!
What's your favorite experience since opening Lake Hickory Haunts?
My favorite experience since opening Lake Hickory Haunts is the same every year... Opening night! After working all year long, we're finally able to open and reveal our new additions and attractions to our customers and fans. In addition, it is awesome to witness our actors giving their all to scare and entertain our guests for the first time after a year of waiting. Opening night is a blast, and it kicks off the new haunt season! This year, our opening night is going to go off with a bang! the 2019 season is our best showcase ever, by far!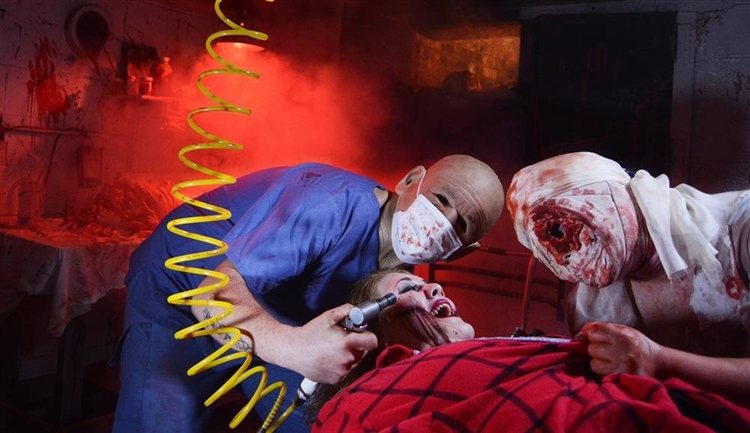 How long is a typical haunt experience at Lake Hickory Haunts from start to finish?
Generally, the haunt takes 50 minutes to one hour to complete. This does not include the time spent waiting in line or enjoying attractions on the Midway of Mayhem. All in all, guests should expect to enjoy at least two hours of thrilling entertainment during their visit at Lake Hickory Haunts.
On a scale from 1 to 10, how scary would you say Lake Hickory Haunts is? Why?
On a scale from 1 to 10, Lake Hickory Haunts can be anywhere from a 7 to a 10. Many people would guess that our goal is to be a 10; however, I disagree. Ultimately, Lake Hickory Haunts is an entertainment business. Our goal is to entertain guests and give them an experience worth their expense. Because of this, we train our actors and employees to study and know the guest as they're on their tour. Our goal is to focus the scare on those who are not scared, and to focus the entertainment on those who are too scared. In short, if you're the type of person that loves being scared to death, our monsters will see that, and relentlessly scare you to that level. On the other hand, if you're the type of person that enjoys less intense scares, but loves looking at awesome and immersive sets and special FX, we will do our very best to deliver that experience to you. Once again, customer satisfaction is our priority! We guarantee you'll have a great time at Lake Hickory Haunts!
Does Lake Hickory Haunts's property have any real haunted history? Do you have a spooky encounter you'd like to share?
Our property doesn't have any documented haunted history. However, our crew has certainly encountered some very strange and unexplained paranormal activities during late work hours. I believe there is something to be said about spirits being drawn to haunts!
What inspired you to open up a haunted attraction? What's your favorite part of the business?
I have always loved Fall, haunted attractions, and amusement parks. I also have a passion for entrepreneurship and management. I decided to combine these interests and passions, in order to create an attraction unlike any other seen before. Lake Hickory Haunts is a haunted attraction, aspiring to be a literal large scale "haunted" amusement park. I once heard that if you do what you love, you'll never work a day in your life. I'm not sure that that is true (Lake Hickory Haunts can take some serious work throughout the year to get ready to open) but, it certainly helps working on what you love.
How has new technology (i.e. animatronics, special props, etc) helped you to enhance Lake Hickory Haunts?
Animatronics, pneumatics, and projectors add an entirely new dynamic to our attractions. For example, our new 4D Asylum Experience is completely operated by animatronics, pneumatics, and electronics. Props and technology will NEVER be able to replace actors. However, we strategically place our animatronics and special props, so that actors can use them to their advantage. Rather than replacing actors with props, we simply add props along with them to make the experience that much better! This year, we have added more automated scares and cinematic sequences than ever before... Which is going to make the scenes,sets, and scares exponentially amazing!
Can Lake Hickory Haunts accommodate large groups? How many people can experience Lake Hickory Haunts together as a group?
Lake Hickory Haunts normally accommodates 4-6 guests per group. However, on slower nights we can make exceptions to these numbers... After all, customer satisfaction is the priority!
Does Lake Hickory Haunts offer any special deals, discounts, or coupons?
Yes, Lake Hickory Haunts offers many deals, discounts, and coupons. To receive our best offers, deals, and discounts; Join our VIP Text List by texting LHH to 69922! This year, our first two nights are early bird special ($5 OFF per person). Lake Hickory Haunts also offer's military, fire, police, and EMS discounts. In addition, Free Parking passes can be found online at HauntedHouses.com and other locations... As well as many physical stores near Lake Hickory Haunts. We also have various special discount nights throughout the season. Visit lakehickoryhaunts.com to see our calendar for this information!
Anything else you'd like to let us know about Lake Hickory Haunts?
Lake Hickory Haunts is the #1 haunt in the Carolina's voted by fans! Lake Hickory Haunts is not your average haunted attraction, it is a haunted theme park featuring 9 attractions for the price of one. In addition, Lake Hickory Haunts has received many more regional, state, and national rankings from many other sources! Visit Lake Hickory Haunts this 2019 season for our BEST SHOWCASE EVER and you'll be glad you did!