2021 Question and Answer With Lake Hickory Haunts
Home » Blog » North Carolina Haunts: An In Depth Look
August 30, 2021 By Haunt News & Press Releases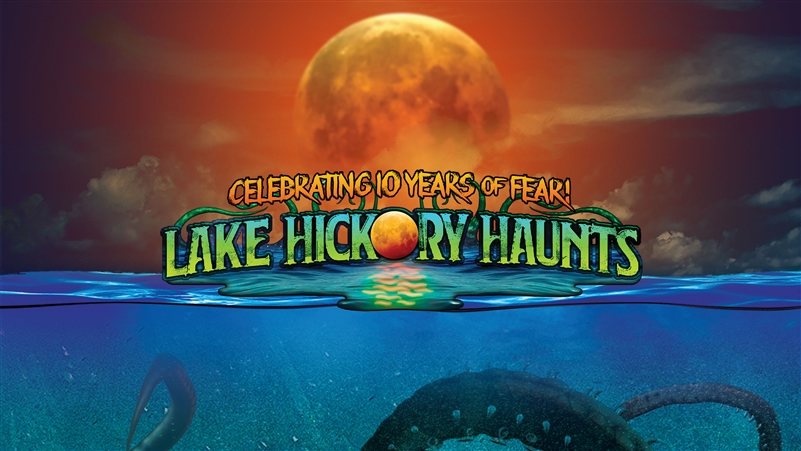 Lake Hickory Haunts - Celebrating 10 Years of Fear!
NorthCarolinaHauntedHouses.com recently sat down with Ryan Settlemyre of Lake Hickory Haunts, to discuss what's new at Lake Hickory Haunts for the 2021 Halloween Season!
What's new at Lake Hickory Haunts for 2021? Do you have any new rides, attractions, or special features that Haunt Seekers should know about?
This year, we have truly outdone ourselves. We have constructed an all-new 3800 square foot building which is our new Box Office, Gift Shop, Restrooms, and more. Plus, we've added a second Midway with much more space! Featuring a Dj in a flying pirate ship, coffin rides, food, photo-ops, and much more. Also brand new is our huge concessions, VIP Lounge, and Coffin Rides. But wait, there's more... The Mangler is a brand-new 2021 attraction featured at the end of the haunt tour. Lair of the Undead has also been expanded and totally overhauled with more detail and scares than you thought possible. In addition, we have totally renovated our parking lot and increased its size by double. Lastly, we have re-worked and re-themed our Relic escape room and added new puzzles to it. There are more small additions throughout the entire property, so yeah... If you've ever visited Lake Hickory Haunts before, you have to make it to our 10th Year of Fear!
What are you most excited about for the 2021 Halloween Season?
Mostly, I can't wait to see our fans reaction after experienced how improved and expanded our show is this year. I'm also excited about our concerts, special events, and celebrating 10 Years of Fear throughout the entire season!
What differentiates Lake Hickory Haunts from other local haunts in North Carolina?
One of the reasons we're unique is because we are located right on the banks of Lake Hickory, which gives Lake Hickory Haunts an incredibly creepy and awe-inspiring back-drop throughout the outdoor attractions. In addition, we offer many unique attractions such as Aquaphobia, which is a water-side attraction in which guests walk across the water on a floating dock before entering the village of Aquaphobia!
How long has Lake Hickory Haunts been in business? Can you tell us a bit more about Lake Hickory Haunts's history?
10 Years. We have been growing and expanding every years since day once. We're more excited about where we're headed than where we're growing!
What's your favorite experience since opening Lake Hickory Haunts?
There are too many to name, I love what I do!
How long is a typical haunt experience at Lake Hickory Haunts from start to finish?
Without including our midway experiences, approximately 45-60 minutes. If you include our midway experiences, about 2 hours.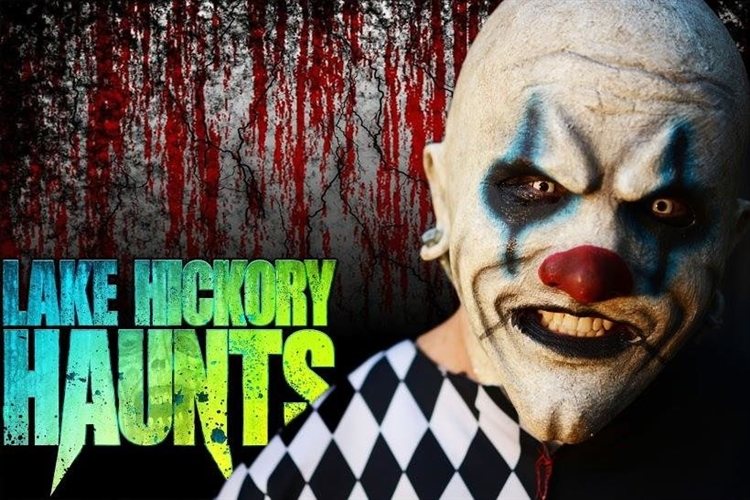 On a scale from 1 to 10, how scary would you say Lake Hickory Haunts is? Why?
I would say an 8.5, because I want our product to be enjoyed and appreciated by all Lake Hickory Haunts guests. Too scary is no fun after a while, we have scares, fun, and thrills!
Does Lake Hickory Haunts's property have any real haunted history? Do you have a spooky encounter you'd like to share?
Not any documented haunted history. However, there are MANY strange occurrences at the haunt regularly throughout each year.
What inspired you to open up a haunted attraction? What's your favorite part of the business?
I have acted in haunts since I was 7 years old. In addition, I have always been impressed by the immersion Disney World is able to deliver. These things combined with my passion for entrepreneurship is what inspired me to open Lake Hickory Haunts. My favorite part of this business is seeing our customers reactions after experiencing Lake Hickory Haunts
How has new technology (i.e. animatronics, special props, etc) helped you to enhance Lake Hickory Haunts?
New technology has enabled us to enhance Lake Hickory Haunts in many ways. One example is our use of CGI TV FX, which you will see lots of this season!
Can Lake Hickory Haunts accommodate large groups? How many people can experience Lake Hickory Haunts together as a group?
Yes we can accommodate large groups in our midway areas. However, when it is time to enter through the main attractions, groups will be separated into smaller groups. This is for the sake of safety and immersion of the sets and scenes.
Does Lake Hickory Haunts offer any special deals, discounts, or coupons?
Yes, we offer a $3 discount for military, police, fire, and EMS workers... when purchasing on site (must show Badge/ID). Also, online tickets are discounted, while on-site tickets are not. Purchase tickets online and in advance for the best ticket price.
Anything else you'd like to let us know about Lake Hickory Haunts?
This year, we have dedicated more time, sweat, and energy into creating the biggest and most elaborate show you've ever imagined at Lake Hickory Haunts. With concerts featuring bands like: Small Town Titans, September Mourning, Shallow Side, Jive Mother Mary, Magnolia Bayou, Replika, and more special guests like the Creepers Cousin and the Screen-Used Jeepers Creepers truck, this is definitely going to be a year you DON'T WANT TO MISS! Mark your calendars, Lake Hickory Haunts 2021is open September 18 through November 13th.