Work at a Haunted Attraction Here in North Carolina this Halloween Season!
Home » Blog » NorthCarolinaHauntedHouses.com News and Updates, North Carolina Haunt News
July 25, 2017 By Chelsea T.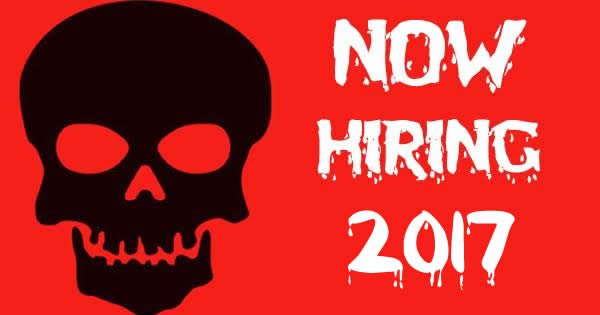 As we enjoy the Summer time, the Halloween Season is creeping up on us. Tons of Haunted Attractions all across North Carolina are preparing for the Haunting Season, and have been for quite some time now.

To get things ready to scare North Carolina locals this year, Haunted Attractions are in the hiring process and looking to find scare actors or other employees to help the haunt run smoothly all season long. Take a peek at the list below to find a local haunt to work at during the 2017 Halloween Season!
Darkside Haunted Estates
11883 NC-222 W., Middlesex, NC
919-269-8620 | champion6901@gmail.com
Hickory Grove Haunted Trail
"Job Interest Session" - Saturday, July 29th | 4-6 PM
The Mountain View Driving Range | 4064 Mountain View St., Gastonia, NC
For those interested, private message Hickory Grove on Facebook
Kersey Valley Spookywoods
1615 Kersey Valley Rd., Archdale, NC
336-431-1700
Apply in person Monday-Friday | 10 AM-6 PM at the Kersey Valley Office
Note: Must be 17 or older to apply
Lake Hickory Haunts
519 Carolina Ave., Hickory, NC
828-493-2781
Open Auditions: Wednesday, July 26th | 4-7 PM
Stoney Point Trail of Terror
7221 Stoney Point Rd., Fayetteville, NC
910-424-0694
Woods of Terror on Church Street
5601 North Church St., Greensboro, NC
336-286-9396
Is your Haunted Attraction hiring? Email Chelsea@HauntedHouseMedia.com to get your Haunt added to the list & be sure to check back as we'll be updating the list regularly!