Haunted Attractions Here in North Carolina Hiring for the 2016 Halloween Season
Home » Blog » NorthCarolinaHauntedHouses.com News and Updates, North Carolina Haunt News
August 23, 2016 By Chelsea T.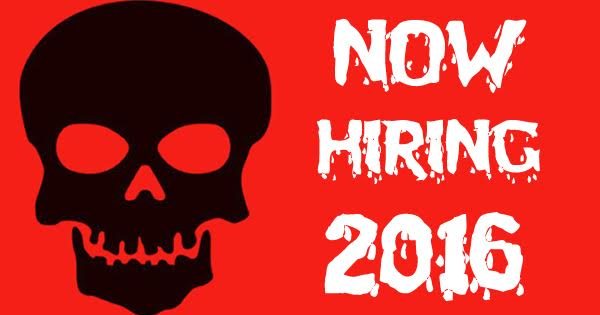 The Halloween Season is right around the corner and Haunted Attractions all throughout North Carolina are preparing for their 2016 thrill-seeking visitors. To assure all goes smoothly during the haunting season, a bunch of Haunted Houses are currently hiring new employees to lend a helping hand.

Whether you're interested in a position that allows you to work behind the scenes, or one that gives you the chance to get up close and personal with visitors, there's sure to be an opening that is waiting to be filled! Take a peek at the list of local attractions that are looking to add newbies to their haunt family this year!
Devil's Playground
8344 Colliers Chapel Church Rd., Linden, NC 28356
910-691-8524

Darkside Haunted Estates
11875 NC-222 W. Middlesex, NC 27557
919-269-8620 | champion6901@gmail.com

Granville Haunt Farm
4534 US Highway 15, Oxford, NC 27565
info@granvillehauntfarm.com

Harvested Farm Nightmares
3175 Benson Rd., Garner, NC 27529
919-449-6981 | warflhx2008@gmail.com

Haunted Forest at Panic Point
2808 Cedar Creek Rd., Youngsville, NC 27596
919-526-8612

Pinhead's Graceyard
2099 Asheville Hwy., Canton, NC 28716
828-670-8228
Spooky Woods
1615 Kersey Valley Rd., Archdale, NC 27263
336-431-1700 | escape@kerseyvalley.com
Note: Must be 18 or older to apply.

Stoney Point Trail of Terror
7221 Stoney Point Rd., Fayetteville, NC 28306
910-424-0694
Note: Must be 14 or older to apply.

Woods of Terror on Church Street
5601 N. Church St., Greensboro, NC 27455
336-643-3558
Note: Must be 18 or older to apply.


Is Your Haunt Hiring for 2016? Let Us Know!