Spooky Woods is Terrifying Locals for its 33rd Year in a Row!
Home » Blog » North Carolina Haunts: An In Depth Look, NorthCarolinaHauntedHouses.com News and Updates, North Carolina Haunt News
October 4, 2018 By Haunt News & Press Releases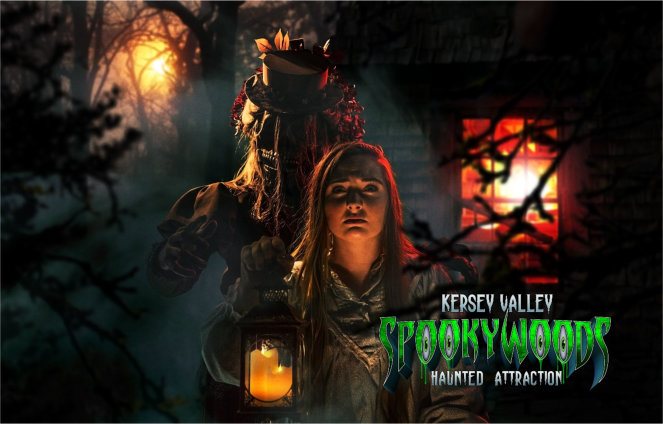 Bella Montgomery
NorthCarolinaHauntedHouses.com recently sat down with Tony Wohlgemuth of Spooky Woods, to discuss what's new at Spooky Woods for the 2018 Halloween Season! Located in Archdale, this haunted attraction sits on a 60 acre farm, offering plenty of space to make your heart race!
What's new at Spooky Woods for 2018? Do you have any new rides, attractions, or special features that Haunt Seekers should know about?
For 2018 we call it ALL NEW! We invested an insane amount of money to bring our fans an all new experience from top to bottom. Starting with the waiting area, we call it Club Spooky. Come party with your friends as you wait under the massive catwalk. Packed full of the latest special effects lighting and jet foggers. Massive TV's all around with trivia, movies and interactive voting. DJ Dustin has scaryokie, shake the dead dance offs, beat the DJ Black Jack with our all new Spookywoods Playing Cards. Win any of these and go direct to the front of the line.
What are you most excited about for the 2018 Halloween Season?
Just seeing the customers reaction in all the new sets, we worked all year to build the best haunted house we have ever created.
What differentiates Spooky Woods from other local haunts in North Carolina?
We make everything in house, from masks, costumes, sets to even the audio tracks. We never copy a set from any other haunt, we strive to be all custom. Then only known characters we have are in the midway, but once in the haunt it's all original from the twisted minds of our full time art department.
How long has Spooky Woods been in business? Can you tell us a bit more about Spooky Woods's history?
2018 marks the 33rd season in a row. We started in 1985 with just the farm house using 5 rooms at $2 per ticket. We were just 15 years old and wanted to scare our friends. The business grew with us and now employs over 350 and is open year round with all our other fun attractions.
What's your favorite experience since opening Spooky Woods?
Adding new attractions to the farm, we are now in the process of buying the farms around us to keep expanding.
How long is a typical haunt experience at Spooky Woods from start to finish?
Spookywoods is an evening of fun, but once in the attraction it will be around 40 minutes.
On a scale from 1 to 10, how scary would you say Spooky Woods is? Why?
Scary is subjective, some will cry and leave early others will laugh at our monsters. If we entertain the whole group at some point we succeeded.
Does Spooky Woods's property have any real haunted history? Do you have a spooky encounter you'd like to share?
Yes, the farm house has been featured on Ghost Hunters and many times we experience odd things like lights coming on inside when it's been locked up and no ones inside for weeks.
What inspired you to open up a haunted attraction? What's your favorite part of the business?
We dared each other as teenagers back in 1985 to enter the old farmhouse, one of the boys in our group of friends encountered bats that landed on his back. That sparked the idea to start the haunted attraction 33 years ago.
How has new technology (i.e. animatronics, special props, etc) helped you to enhance Spooky Woods?
Technology has created and improved our marketing and ticketing systems from the ticket booth to all the food and beverage shops.
Can Spooky Woods accommodate large groups? How many people can experience Spooky Woods together as a group?
We like to send groups of 8 into the attraction at a time, but then we bunch you up on the terror trams to groups of 16.
Does Spooky Woods offer any special deals, discounts, or coupons?
Military ID gets a BOGO offer on any ticket. Give blood at one of our over 65 locations for blood drives and receive a BOGO on Thursday or Sunday. Visit the website for details.
Anything else you'd like to let us know about Spooky Woods?
We pride ourselves on the best customer service in the business, if you are not happy we are not happy.