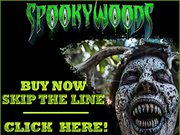 1615 Kersey Valley Rd
Archdale, NC
Details
Average Review

Scare Factor

Very Scary

Appropriate For

Not for recommended for age 12 and under

Organization Type

Commercial / For Profit

Listing Categories

Haunted Houses, Haunted Hay Rides, Zombie Hunts & Shootouts, Haunted Mazes / Haunted Corn Mazes, Haunted Trails, Pumpkin Patches, Escape Games, Scream Parks, Zombie 5k Runs, Other Events

More Info

Wheelchair Accessible, Snacks & Refreshments, Outdoor Event(s), Indoor Event(s), Touching Not Allowed, Parking Fees May Apply
Spookywoods Haunted Attraction started by a dare of teenagers in 1985 to go into an abandon farm house when the founder Tony Wohlgemuth was 15 years old. After getting a good scare from a family of bats they decided to make a haunted house that fall. The haunted attraction now takes over the majority of the 60 acre farm after over 3 decades of growth. Kersey Valley has a year round team of artist and builders with a passion for creating fresh new experiences each fall.
Spookywoods Attractions:
ALL NEW CLUB SPOOKY - Most entertaining queue line in the business!
Monster Makers Studio: Enter into the studio of Martin Maxwell. Uncover the shocking truth behind why Martins' monsters look so real.
Terror Trams: Careful as you ride deep into the world of shadows on a truly dark ride. Shadows are known to try and hitch a ride.
Thunder Frights: A storm is approaching and it's stirred up the creatures of the night. Each group is issued one flash light to take on your journey into the darkest part of Kersey Valley. Stay close, you will find out who or what's got your back.
Laser Tag The Infection: The mutant corn field is feed by some unknown fertilizer has grown to 14ft tall! Find your way through the deadly fog with your team of adventures each with your own high tech laser weapon. Keep your aim tight and shoot everything that is blinking green while trying to avoid getting too close to the infected creatures or you will not survive to the end.
The Haunted Manor: Enter the Victorian home once owned by a pair of eccentric collectors. Wonder through their estate and discover oddities and objects were not the only precious things they collected. Awaken the poltergeists that still remain behind in the home. Tour the grounds and stroll through the family graveyard that is overgrown, but not quite at all.
The Morgue: Enter into the sales room of the mortuary where the smells of flowers is calming, but the sense of foul play overcomes you. The seedy looking mortician takes customer service very personal.
Vampires Phantom Castle: A dark castle covered in webs and shrouded in fog is yours to explore. Vampires vixens with monstrous faces and fitting appetites lurk into the cracks of the massive structure.
QNU Diner: Bring all your friends for a meal in the recently reopened diner. The best BBQ around these parts.
Slaughter House of Horrors: The secret ingredient to the QNU is revealed. Find your way through the cooler and avoid the grinder before you become the next weekday special.
Prison Break: Keep your head down and move in an orderly fashion if you hope to escape intact. The guards are on the lookout and have orders to shoot on site. Trust no one, the prisoners are escaping and they will use you to get away.
The Lab: Creature containment is the objective as the scientists assemble the parts of their next project.
Tunnel Back To Reality: Traverse the 100 ft massive green tunnel with incredible laser effects back to the midway, watch your back as you never know what creatures followed you out of the woods.
Email Haunt Owner
Visit Kersey Valley Maize Adventure for our day time family friendly attractions. See www.maizeadventure.com for all the fun to be had.
2019 Schedule
September
Su
M
Tu
W
Th
F
Sa
1
2
3
4
5
6
7
8
9
10
11
12
13
14
15
16
17
18
19
20
21
22
23
24
25
26
27
28
29
30
October
Su
M
Tu
W
Th
F
Sa
1
2
3
4
5
6
7
8
9
10
11
12
13
14
15
16
17
18
19
20
21
22
23
24
25
26
27
28
29
30
31
November
Su
M
Tu
W
Th
F
Sa
1
2
3
4
5
6
7
8
9
10
11
12
13
14
15
16
17
18
19
20
21
22
23
24
25
26
27
28
29
30
Hours of Operation: From 7.30 PM
Admission Costs: $20 – $70
Payments Accepted: Cash, Credit Cards, Debit Cards
- event open dates
Event last updated 5 days ago. Please confirm dates on
haunt website
before you go.
All photos and videos within this listing are the property of Spooky Woods
Loved the experience

The trail featured creepy sets and jump scares, few of which had caught me by surprise.

| | |
| --- | --- |
| Scare Factor: | |
| Fun Factor: | |
| Haunt Value: | |

Posted April 2019

Interesting scenes

Had a blast at spooky woods. True to its name it really was spooky. We tried almost all the haunts and we had so much fun. They had lot of interesting scenes at each and every attraction. The wax house was unique. Never so this kind elsewhere. It was fun with the characters. They had a lot of tricks up their sleeves. We got a taste of the diners. Loved their barbecue. Best around the town. It is not the regular kind and we got the taste of being in a horror house. Nice place to hangout with friends.

| | |
| --- | --- |
| Scare Factor: | |
| Fun Factor: | |
| Haunt Value: | |

Posted March 2019

Challenging fun

As the terms suggests, this haunt will spook you off. The set design was impressive. Creepy interiors and innovative scares gave us a hard time. Enjoyed every moment of it. Couple of times I screamed. Escape rooms was fun, yet challenging. We could not make out of it in time. But it was way better than the escape rooms I'd been to. Staff was friendly. Food was awesome too. If you love to get scared or just want to have a great time then come on out to Spooky Woods.

| | |
| --- | --- |
| Scare Factor: | |
| Fun Factor: | |
| Haunt Value: | |

Posted January 2019

Creepy set

The best part is that they provide something new every year. Regular visitors would understand what I mean. Set design was creepy and attention to detail was commendable. Scare quality was above par. The laser tag corn maze had few terrifying moments that freaked me out. The food in the alley area was yummy. I recommend this place.

| | |
| --- | --- |
| Scare Factor: | |
| Fun Factor: | |
| Haunt Value: | |

Posted December 2018

1 out of 1 found this review helpful

Total fun

It was honestly spooky. We were a gang of friends who love to be spooked. And we had loads of options here. The waiting area was fun. We did not get bored waiting in the line. The special effects were great with fog machines and lighting taking center stage. The surround sound was so effective that we jumped a couple of times. It startles and made us run for safety. Actors were spot on and we had good interactive time with them. Never miss this one if you want to celebrate Halloween in its full tradition.

| | |
| --- | --- |
| Scare Factor: | |
| Fun Factor: | |
| Haunt Value: | |

Posted November 2018

Spookywoods is the best haunt in NC!

I went through and was scared from the first house to the last of the haunt which was the chainsaw guy!

| | |
| --- | --- |
| Scare Factor: | |
| Fun Factor: | |
| Haunt Value: | |

Posted November 2018

Email Verified

Best night ever.

This is my family's first time coming through Spookywoods and it was completely worth it.i wanna give a shout out to the chainsaw at the end because My little sister almost peed her pants from the chainsaw because he chased her back to the main area. Amazing actor there. My mom was so scared by all the moving areas and dark tunnels. And the tram lights going out was awesome. The attention to detail was amazing and the actors were so full of energy and it was very fun even with the wet environment. Tha k you everyone for a fun night.

| | |
| --- | --- |
| Scare Factor: | |
| Fun Factor: | |
| Haunt Value: | |

Posted November 2018

Email Verified

Excellent set

I had come few years back, and Spooky Woods seem to get better with each passing year. The axe throwing was a new experience for us. The old house was pretty scary. Excellent set design, scares and props. The trail also had some good scare moments. The escape rooms were scary and challenging. I felt it might not be exactly suitable for very young kids. We teamed up with others and eventually cracked the code. Overall, a good haunt and we had a great time in there. Check it out.

| | |
| --- | --- |
| Scare Factor: | |
| Fun Factor: | |
| Haunt Value: | |

Posted November 2018

1 out of 1 found this review helpful

Email Verified

Awesome Place With The Most Caring Staff

On 10-28-2018 My wife, I, my son, and my mother in law made the 111 mile drive from Kings Mountain NC. We called this attraction and some in our area and we needed a handicap accessible or at least a handicap /wheelchair accessible attraction due to my wife who is 35yo and terminally ill. We contacted this attraction a couple times before we visited to make absolutely sure. So upon our arrival on Sunday 10/28/18 we met awesome staff at the entrance gate and at the ticket office. Upon arriving inside the employees there had another person meet us and help is through the attraction while my wife got to enjoy it along with the rest of our family!! I have NEVER been anywhere like this even Carowinds doesn't assist the disabled as well as they did here and they are only about 25miles away from us!! This was our very first time visiting this attraction and I feel that we will be making the 111 mile drive again next year!! This attraction knows how to treat the disabled guests and that means alot to me because we were all able to have a great time together. Yes we weren't able to go to all the attractions due to the rain but I can say this place is Awesome and the staff here is very Courteous and Professional. Thank You For All You Guys Did For Us That Helped Make Our Visit better than First Class Service!!! I highly recommend any disabled person or family to check this attraction put because you want regret you did!!! We will definitely be back!! I don't want to call anyone out on here but i am sure when they read this review they will know who they are!! I can't say "Thank You" enough!!! God Bless You All!! Tommy, Nicole, and Alex Carroll - Kings Mountain NC Linda Wall - Kings Mountain NC

| | |
| --- | --- |
| Scare Factor: | |
| Fun Factor: | |
| Haunt Value: | |

Posted October 2018

2 out of 2 found this review helpful

Email Verified

Undying tradition

The farm house was a great learning on how Halloween was celebrated. It was an undying tradition. Full of terrors and well worth the money!

| | |
| --- | --- |
| Scare Factor: | |
| Fun Factor: | |
| Haunt Value: | |

Posted October 2018

1 out of 1 found this review helpful

Was amazing Def need to come to this haunt

I went tonight and everyone was great the scenes were amazing and it's a great trail have not seen any thing like it Def number 1 for sure I had a great time and the actors are amazing

| | |
| --- | --- |
| Scare Factor: | |
| Fun Factor: | |
| Haunt Value: | |

Posted October 2018

1 out of 1 found this review helpful

Fear factor superb

Realized what dark horror was at the spooky woods last weekend. They had a lot of variety and we loved the fear factor they managed to create. The tram ride was filled with darkness. It was a shadowy ride and they had executed it well. Laser effects came to the fore in tunnel. It was magnificent and quite beautiful as it takes you back to midway. Fighting the monsters with the laser tag was great. Had fun trying to get the monsters down with our laser guns. Superb. Great job.

| | |
| --- | --- |
| Scare Factor: | |
| Fun Factor: | |
| Haunt Value: | |

Posted October 2018

Email Verified

Good time

It's been a few years since I've been here. Have to say was a good time. I'm not one that gets scared easy but you got me to jump once and with a knee brace on that was a trick lol. But all around good time. Loved the character interaction with taking pics. Enjoyed beginning to end will start coming yearly now.

| | |
| --- | --- |
| Scare Factor: | |
| Fun Factor: | |
| Haunt Value: | |

Posted October 2018

Email Verified

The Best Place Ever!!!

My family and I drove from Tampa, Florida to visit friends and family in Greensboro, NC and go to Spookywoods. From the moment we entered the park we had a great time. My husband and nephew were acting like they weren't going to be scared because they were men..lol Well guess what they were so scared so was I ...and everyone else. We couldn't stop screaming, jumping, running, laughing, and being pleasantly surprised all night long. We got the immediate access passes to by pass any wait times, because like any park you know lines are going to be long during peak seasons. That's why Disney has fast passes. The immediate access pass may cost more, but there's no wait. Since we were coming from out of town we bought the passes because we knew we had to drive back. But if we didn't have to drive back, we would've bought the other passes they offered. I like how the park had music playing for those in lines and scary people coming up to them while they waited. I saw Freddy, Michael, and more wandering through the lines. I can write all night long about Spookywoods and still not do it justices. I can't put in words how amazing this place is. I know one thing we have memories that will last a lifetime. We will definitely be back next and bring others from Florida with us. Thank you Spooky Woods for making my visit to NC priceless.

| | |
| --- | --- |
| Scare Factor: | |
| Fun Factor: | |
| Haunt Value: | |

Posted October 2018

Email Verified

EPIC Fun!!

I've wanted to come visit for years and it did not disappoint!! Did immediate access and it was totally worth it!! So many cool attractions!!

| | |
| --- | --- |
| Scare Factor: | |
| Fun Factor: | |
| Haunt Value: | |

Posted October 2018

Best Scare Ever!

Had a blast last night! Got the shit scared out of me every time I turned around! Even got it standing in line at the forest! That chick jumped at me and sniffed me lol! Freaked me out right off the bat! Loved everything about it, especially those donuts! Keep scaring!

| | |
| --- | --- |
| Scare Factor: | |
| Fun Factor: | |
| Haunt Value: | |

Posted October 2018

Email Verified

Great experience..

Awesome. Loved everything it was a great experience we ever had from a haunt. Full of scares and lot of fun and laughter. The set up was spooky and actors where wonderful.

| | |
| --- | --- |
| Scare Factor: | |
| Fun Factor: | |
| Haunt Value: | |

Posted October 2018

Email Verified

Best Scariest Haunt EVER

This is the best haunted house I have ever been to. The sets and costumes are top notch Hollywood quality.

| | |
| --- | --- |
| Scare Factor: | |
| Fun Factor: | |
| Haunt Value: | |

Posted October 2018

Email Verified

Best time ever

Me,my brother and his girlfriend went on Saturday and it was the best time. The DJ helped to make waiting in line better and the actors walking around in the line was really great,getting u ready for what is about to happen in the attractions. And with the new attractions it made for a great experience because you don't know what is going to happen next.

| | |
| --- | --- |
| Scare Factor: | |
| Fun Factor: | |
| Haunt Value: | |

Posted October 2018

Email Verified

Strengths and Opportunities

Going to Spookywoods is one of my yearly October highlights. I always appreciate the great detail that they put into the haunt. I've said this year after year, but their strength lies in their artistic direction. I really appreciate how they try and bring you a new experience year after year and they have the means to really be innovative and take risks, which I appreciate. The level of detail that they put into their sets and designs is extraordinary and you can tell that they put a lot of hard work and heart into everything. The one area that I believe they have always had consistent opportunity in is the trail section of the haunt. The scares always seem to be pretty far between each other and the theme, in my opinion, has always been the weakest. Some other things I believe were a miss was the laser tag shoot out. Last year they went down and we weren't able to use them so I was excited to be able to give it a go this year. I just think it honestly pulls you out of the scare factor...I didn't find shooting at random green lights in the corn to be that exciting and the 4 or 5 actors in the corn who would come up for you to shoot at really didn't do anything but pop up and stand there. I think it takes away from years past when the corn maze had actual actors in there who would stalk you and interact with you. It's an innovative idea but I personally thought the payoff wasn't worth what I had experienced in the past. The manor also fell a little short this year, there were maybe 2 actors in there and both just didn't really do much. I also expected a bit more from the Phantom Castle...I didn't even realize it was supposed to be vampire themed until after the fact on the way home when I was reading the descriptions. None of the actors really stood out as vampires and the two girl actors who were in one of the rooms together both just popped out and screamed in the exact same manner. And the end was very, VERY anti-climactic. We walked through the lab set(which had some EXCELLENT props) and a couple of actors lumbered around, and then we literally just walked out of the haunt and into the blow up arch. There was no last great scare or anything that really signified this was the end. I believe we walked past an actor who was lumbering around and right out of the door. I will say the QNU diner was DEFINITELY amazing, as was the actors in there, and the slaughterhouse was brilliantly done, I thought it was interesting and a very fresh take on slaughterhouses AND THE MUSIC THERE that played in the background was great. A++ to all of the actors and the design of that new section, I even got a little order slip from one of the actors there. The monster makers studio was SO GOOD, that's such an interesting idea that i thought worked really well leading into the haunt. AND THE TERROR TRAM GUYS were AMAZING! They seemed to interact more than they have in the past which I appreciated. Club Spooky was also an excellent idea for the line, it really made all the difference with the wait. That was an excellent investment! Overall, I think Spookywoods' biggest opportunity has been with their actors. They have several really great ones in some of the key places like the midway, the first house, and the diners but overall they just didn't really seem to be into it, so to speak. I recognize that we live in an age where everybody is a critic and that haunting is subjective, depending on the night and whatever circumstances come up so I implore everyone to make their own decisions about visiting Spookywoods. These are just the things that I personally experienced at the specific times that I went through the haunt and it could be completely different for someone else. I will always recommend Spookywoods because we should all be supportive of our local haunts and the people who put literal blood, sweat, and tears into them to try and bring us the spooky experience we all desire every season.

Scare Factor:
Fun Factor:
Haunt Value:
Length of Event:
> 1 hour
Time Visited:
After 9PM
Would Recommend:
Yes
Suitable For Kids:
Yes

Posted October 2018

3 out of 3 found this review helpful

View all Spooky Woods Reviews
All information on this page was submitted to North Carolina Haunted Houses and was believed to be accurate at the time it was posted. Please report any inaccuracies
here
.