Kersey Valley Spooky Woods Reveals All New Billboards After Last Year's Controversey
Home » Blog » Press Releases, North Carolina Haunt News
September 19, 2018 By Haunt News & Press Releases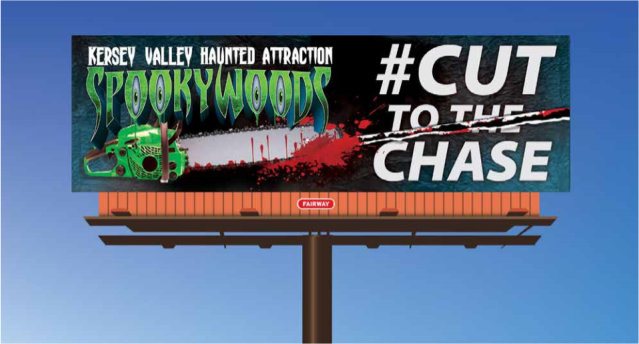 Photo by:
Kersey Valley Spooky Woods via Facebook
Archdale, NC - Sept. 19, 2018 - North Carolina's Premier Haunted Attraction Kersey Valley Spookywoods prepares for its 33rd season of scares and at the top of the to-do list is billboard design. Last year, the company came under fire for the content of their billboard advertisement. Some found the depiction of Sydney Parks covered in what appeared to be barbed wire unsettling.
The billboards were called to be removed by the public due to the graphic imagery. When asked for comment, Sydney Parks assured, "I'm 21. I'm not being abused or, you know, forced to do anything."
The folks at Spookywoods do appreciate the attention and awareness last year's controversy provided. Turns out the old saying rings some truth: there is no such thing as bad publicity. Ticket sales skyrocketed after the billboard outcry was picked up by local news stations and the company even enjoyed national coverage of the story. Last season's ticket sales broke records, making it the best selling in Spookywoods' history.
Spookywoods refuses to rein in their defining high-quality horror effects and imagery. Their team of artists has crafted iconic characters and scenes that the company strives to highlight in their publicity. These distinctive and well-known promotions only improve and intensify over the years.
Their designers have an even more extreme and horrific billboard image in store this Halloween season. But, this time, in order to view the image, you have to ask for it. As a gift to their dedicated audience of horror fans, Spookywoods will reveal their graphic billboard image to those brave enough to text SHOWME to 31996. Fans will be rewarded for their courage by receiving discounts on VIP tickets.
"Last year was the most successful season in our history," Co-Owner Tony Wohlgemuth recounts. "We never meant for the billboard to be so controversial, but we've taken steps to avoid triggering drivers and to prevent upsetting parents, using technology in a new and unique way."
Beware Spookywoods' innovative billboard this Halloween season. Text SHOWME to 31996 to reveal the blurred image in full detail and receive a discount on VIP tickets to Spookywoods. Are you brave enough?
Kersey Valley Spookywoods opens Friday, September 28th at 7 p.m. at 1615 Kersey Valley Road, Archdale, NC 27263. Hours of operation are Sunday-Thursday 7 p.m. to 10 p.m. and Friday-Saturday 7 p.m. to 12 a.m. For tickets and more information visit spookywoods.com.
Press Contact:
Caitlin Billings
press@kerseyvalley.com
(336) 431-1700 ext. 206