Haunted Forest at Panic Point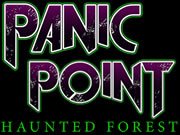 2808 Cedar Creek Road
Youngsville, NC
Six Haunted Attractions
27 Unique Scenes. Do it all with our PACKAGE OF FEAR
Panic Point Turns "Unlucky" Seven!
Our Scare Park offers 6 unique Haunted Attractions: Haunted Forest, Dark Trail, Hayride, Killers in the Corn, Carny Crypt, & Corn Maze. While waiting for your heart rate to normalize between frights, you can hang by the fire, dance, eat, drink, or win a t-shirt via Carnival Games or Zombie Shootout. As always, Parking is FREE.
THE Halloween Event in the Triangle
Our 2017 Halloween Event runs all month long, and the Haunted Trail is just one piece of the horrifying puzzle. Every night at the Haunt is one gigantic grim gala, with more ways to cry fear than you knew existed. Each attraction entrance sits around the perimeter of the circle of horror, which is "relatively" safe (if you can avoid "Axe Man" & "Buzzsaw"). Dual Bonfires rage, the DJ spins music, & the movie screen offers scare highlights. You can easily spend 2 hours hopping from one attraction to the next, while the more cowardly members of your group hang by the fire sipping cocoa. Its an enormous scare fair every night, and you're invited!
Scare Guide
The Haunted Forest, Dark Trail, Killers in the Corn, & Carny Crypt are designed to scare, and are probably not appropriate for most people under the age of 12. There is no haunted house rating system, but at our scariest we would call the haunt, "PG-13". We are, however, a family friendly haunted house. Younger patrons can enjoy the Maze and Zombie Shootout, haunter-free. Brave young souls can try the hayride first before venturing into more scary attractions.
Haunted Forest
Featured Attraction with 11 eerie scenes over a half mile, like The Dollhouse, Voodoo Shack, Abbey, Motel, Old Sanatorium & Zeke's Cabin...
Dark Trail
Fan Favorite! Fear The Dark as you grope blindly through the home of Backwoods Mutants and their Cavern, Barn, Toxic Bus, & Horror House...
Haunted Hayride
No safety in numbers in this mass transit nightmare. You'll creep along, howling through 6 scenes like The Dead Mine, Lethal Labrynth, & Vortex...
Killers in the Corn
An Instant Classic born in 2016. A spectral corn field home to the "Masters of Murder". You may recognize them and their hellish digs. Do NOT linger...
Menacing Maze
A haven for the squeamish. No haunters, but it's dark, lonesome, and challenging. The Objective is to GET OUT & find 5 stations to spell P-A-N-I-C...
Carny Crypt
This trailer houses distressed carny spirits who use the morbid, mirrorless, mirth house to exact revenge on all who cringe at the sight of them...
Email Haunt Owner
All photos and videos within this listing are the property of Haunted Forest at Panic Point
Creepy, haunting

Amazing nightly horror attractions. I always enjoy visiting Panic Point during the Halloween season. This is my 3rd year visiting and just like previous years this time also we had a handful of good memories. We had fun with exploring the corn and hayride was more fun than scary. Trails were creepy and haunting. Killers in the Corn and forest were my favorites. Crany crypt was a short walk but you will go crazy.

| | |
| --- | --- |
| Scare Factor: | |
| Fun Factor: | |
| Haunt Value: | |

Posted November 2017

Just an OK haunt

Visited the haunt with my son.. it was an OK haunt, but not great. The music was aweful.. walking the trail in the dark was treacherous.. I tripped over tree roots more than once.. the lighting was also poor.. I lost my way few times.. the church scene was nice though.. actors did a great job. Would I recommend the haunt? Not really.. it is a one-time visit at best.

| | |
| --- | --- |
| Scare Factor: | |
| Fun Factor: | |
| Haunt Value: | |

Posted November 2017

Mind Blowing

I along with my wife visited this place and we were just blown away by the acts displayed by the actors. Loved the haunted hayride and haunted forest the most and they seemed like the scariest among all six attractions. Through out the half-mile walk my wife held up my shirt and usually hiding behind me. We not only screamed, but ran and laughed also at some time. All the actors were super amazing, and performed an awe-inspiring act without losing the character at any time. Thanks to the management team for handling the crowd as the queue was moving well and they also didn't push people! Will visit again.

| | |
| --- | --- |
| Scare Factor: | |
| Fun Factor: | |
| Haunt Value: | |

Posted November 2017

Undoubtedly the best

Panic point is undoubtedly the best haunted attraction I have ever visited. I could say six attractions for $35 is very reasonable. We have got enough time for all attractions and each penny was worthy. About the maze, finding your way out in the darkness is challenging. Hayride was not scary so kids will love it. Forest and Trail has ultimate scare factors in it which make even the brave soul to panic.

| | |
| --- | --- |
| Scare Factor: | |
| Fun Factor: | |
| Haunt Value: | |

Posted November 2017

No quality scares

No quality scares. Trails are ok but you will never experience that haunt feel by visiting this place. It's an expensive haunt and doesn't worth at all so don't waste your time and money here. No surprises or good jump outs. Maze was just solving the puzzle and finding the exit. I will never go back to this one.

| | |
| --- | --- |
| Scare Factor: | |
| Fun Factor: | |
| Haunt Value: | |

Posted November 2017

Email Verified

We had a great time

I along with my girlfriend went last night. We had a great time. We did the triple pack haunted trail, hayride, and dark trail. Queues weren't too long, maybe as we reached earlier. Hayride was mediocre, but dark trail was another extreme of horror and frightening stuffs. Awesome actors draped in scary costumes and did a fantastic job in scaring us. My girlfriend held up my shirt till the end and it was fun as we were screaming and yelling together. Staffs were nice. We'll definitely visit next year.

| | |
| --- | --- |
| Scare Factor: | |
| Fun Factor: | |
| Haunt Value: | |

Posted November 2017

Email Verified

Blazing Performance

Blazing performance! Reluctant to try this place at the beginning. Got there last night on the urge of my girlfriend...and we relished each moment of horror! The queue wasn't a big deal and we already get into the real actions in a while. We did all six attractions, but the haunted forest was the scariest among all. It was like a half mile walk-through an atmosphere of special effects under the darkness of woods and terror of actors. The other attractions dark trail, haunted hayride, killers in the corn, menacing maze and carny crypt were super amazing and we're completely blown away by the progression of stories and multi-faceted role played by the characters. The staffs were nice and parking wasn't a problem. Loved it!

| | |
| --- | --- |
| Scare Factor: | |
| Fun Factor: | |
| Haunt Value: | |

Posted October 2017

Will scare even the steely-minded soul

Me and hubby visited the Haunted Forest.. we gave the maze a miss and instead focused on dark forest and haunted trail.. both had enough settings to scare even the steely-minded soul. Actors did their roles to perfect, and it had me running for my life.. my hubby was also startled more than once.. Killers in the corn were my other favourite. I would recommend this place to all.

| | |
| --- | --- |
| Scare Factor: | |
| Fun Factor: | |
| Haunt Value: | |

Posted October 2017

Email Verified

Waited for ages to get inside

It was quite a long queue.. we waited for ages to get inside.. the haunt was disappointing.. the trail was poorly maintained.. chances of getting injured is high. My wife fell down multiple times. The scare factor was below par.. when you pay at a haunt, we expect to be scared.. it wasn't the case. It was disappointing and I won't come again ever.

| | |
| --- | --- |
| Scare Factor: | |
| Fun Factor: | |
| Haunt Value: | |

Posted October 2017

Email Verified

Outstanding

It was my first visit and it was outstanding. Surprise at each attractions and we got terrified like a hell lot. We did all attractions and most of them were unique in theme and backed by professional actors. The design of maze and application of animatronics were aligned to meet the progression of story and self-guided tour under the darkness in the area of woods was damn frightening. We spent around 2 hours here, and we felt like exhausted at the end of the show. I felt like losing my voice. Overall, I loved it and will definitely do it again soon!!

| | |
| --- | --- |
| Scare Factor: | |
| Fun Factor: | |
| Haunt Value: | |

Posted October 2017

Screamed, yelled, jumped

Reluctant to try this attraction earlier, but visited on the Halloween eve as persuaded by my friends. Truly, I regret why I didn't visit this place earlier. We got the combo package and all attractions were just amazing to blown away our strength against the fear. Loved the dark trail, I think a perfect one for a group of us. We all screamed, yelled, jumped and ran from one extreme to another. All actors were just phenomenal, they spooked us each time. Impressed by their costumes and it was like a half dead twisty evil spirits behind us. Certainly, a place one can't say "No". Well done team.

| | |
| --- | --- |
| Scare Factor: | |
| Fun Factor: | |
| Haunt Value: | |

Posted October 2017

All attractions were scary

Incredible experience. All attractions were majestic, especially Killers in the Corn and Dark Forest made us scream the most. True efforts were put in by actors and staffs in organizing the event. Highly recommended.

| | |
| --- | --- |
| Scare Factor: | |
| Fun Factor: | |
| Haunt Value: | |

Posted October 2017

Email Verified

Lots of screaming and shouting

Went there with my GF and we had a great time to say the least.. but the dark trail and haunted forest was super scary.. I was not scared ever in my life.. no wonder, there was lots of screaming and shouting around..The effort put in by the actors is commendable.. It took about 2.5 hours for us to finish the haunts.. the staff was friendly and food and drinks were nice as well. I will return for sure.

| | |
| --- | --- |
| Scare Factor: | |
| Fun Factor: | |
| Haunt Value: | |

Posted October 2017

Super Fun!!

We just went and it was very fun! The scariest thing was the new Killers of the Corn! We took lots of selfies with the haunters and just had a really good time! We did every attraction and the most fun one was definitely the Haunted Forest! So fun, will definitely go again!

| | |
| --- | --- |
| Scare Factor: | |
| Fun Factor: | |
| Haunt Value: | |

Posted October 2016

1 out of 1 found this review helpful

better every year

I've been going to panic point since they opened 5 years ago. The first year was a little rough, but it managed to get some jumps out of us. Every year it's gotten bigger and better, this year in particular they did a lot with each scene, a lot of new details that really add to the mood. The Hay ride was also hugely improved from the last few years... Based on the lines I saw, these guys are the ones to beat.

| | |
| --- | --- |
| Scare Factor: | |
| Fun Factor: | |
| Haunt Value: | |

Posted November 2015

5 out of 5 found this review helpful

awsome

it was gr8 for kids

Posted October 2014

0 out of 3 found this review helpful

Not the worst I've been to but almost

If you are looking for a serious scare, pass this one. This one is good for smaller children but for young adults looking for scares, this one is kind of a yawner.

Posted October 2013

1 out of 5 found this review helpful
All information on this page was submitted to North Carolina Haunted Houses and was believed to be accurate at the time it was posted. Please report any inaccuracies
here
.